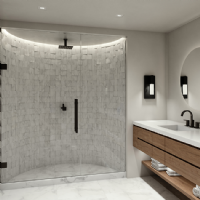 ANYBEND-RGB
Q-CAP | MICRO 5 Series

RGB flexible micro-fixture with up/down and side bend orientations
60% smaller than KURV, ANYBEND-RGB is a fully encapsulated flexible linear LED fixture suitable for use in a variety of applications. Because of its dry and wet rating, it is perfect for not only indoor use but also as outdoor accent lighting where the fixture is visible. ANYBEND-RGB encapsulates our 24-volt dynamic color RGB LED strips in polyurethane. Offered in
standard output with colors red, green and blue (4.0W/ft total load). ANYBEND-RGB has a unique up/down and side bend with a 9" bending radius and it is compatible with six different mounting hardware options to ensure our product fits any design need. Utilize clear endcaps for continuous runs with no light loss.
Accepted into the 2022 IES Progress Report.
Technical Information
| | |
| --- | --- |
| Color Temperature | Red, Green, Blue |
| Output | Standard Output |
| Rated | Dry, Wet |
| Flexibility | Up/Down Bend, Side Bend with 9" radius |
| Lens Options | Encapsulated Clear, Encapsulated Translucent |
| End Cap Finishes | Clear Endcaps, White Endcaps |
| End Caps (With Feed) | 0" added at end |
| Input/Output Type | Single (1), Pass Through (1) |
| Mounting Hardware | White Snug Clip, PVC Clip, Low Profile PVC Clip, PVC Channel, Low Profile PVC Channel |
| Profiles | Standard |
| Classifications | UL Listed, RoHS, Declare |
| Warranty | 5 year |
SO Standard Output

ENC/CL
ENC/TL
CCT
LM/ft
Wavelength
LM/ft
Wavelength
Red
33
630
29
629
Green
115
523
92
523
Blue
32
469
28
469